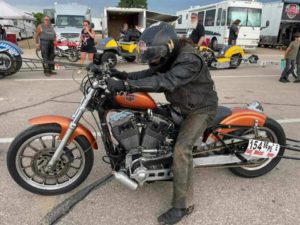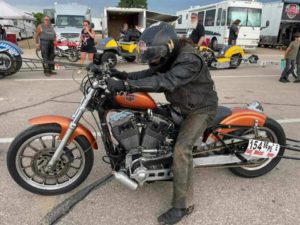 In the heart of Cincinnati, Ohio, a force to be reckoned with has emerged, a rider who embodies power, precision, and unyielding passion. Known by the moniker "Full Metal Joey," Joey Jermer is rewriting the script of speed and adrenaline. 
Joey's presence on the asphalt is marked by the roar of his 2007 Dyna, a powerhouse equipped with a 117" Dual Mikuni Carbs, a Belt Drive, AIR Shifter, and a Stretch Swing Arm. He effortlessly glides through various classes, including 10.90 P.E., 11.50 S.E., and E-Class, setting a new standard for versatility. Proudly representing the Universal Fleet & Tire Race Team, Joey's loyalty shines through the support of sponsor Universal Fleet & Tire Racing. 
Joey's list of accomplishments is ever-growing, with titles earned through sheer dedication and a fierce competitive spirit. His riding journey may have started just a year ago, but the impact he's made reverberates through every race track he touches.
The catalyst for Joey's entry into the racing world was an invitation he couldn't resist: an opportunity to join the Universal Fleet & Tire Race Team. His skills extended beyond just racing, encompassing mechanic work for his teammates and even assisting with Nitro Bikes. Joey's role in the team is a testament to his all-encompassing dedication to the world of speed.
Guiding him along this exhilarating journey are mentors who have played a pivotal role in shaping his racing prowess. The likes of Mike Terry, Jason Leeper, Hooper, Ray Robinson, Rooster Crazy, Joe Abner, and the FASTco Guys have bestowed upon Joey a wealth of wisdom and experience, shaping him into the powerhouse he is today.
Beyond the race track, Joey's life is a tapestry of artistic expression and multifaceted passions. As a skilled Tattoo Artist and a talented musician-drummer, he infuses his creativity into every facet of his life. His love for working on and riding Harley's stands as a testament to his enduring connection with the world of motorcycles.
In Joey's own words, AHDRA has offered an awe-inspiring experience filled with remarkable individuals who share his passion for racing. Their knowledge, camaraderie, and helpful nature have created an environment of growth and excitement that is hard to match.
Full Metal Joey Jermer is more than just a rider; he's a symbol of determination, dedication, and a boundless enthusiasm for speed. With each turn of the wheel, he shatters expectations and leaves an indelible mark on the world of riding, proving that passion and power know no bounds.