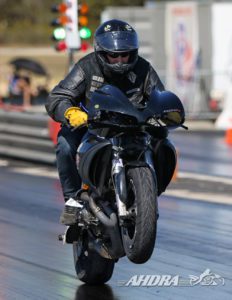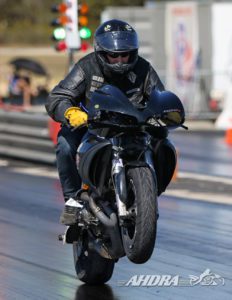 Hailing from the lively metropolis of Rochester, New York, comes a racer reshaping the very principles of velocity and accuracy. Ray Robinson, a name synonymous with unrelenting determination and fearless pursuit, is making waves in the riding world. 
Ray's journey is carved on the asphalt as he pilots his 2008 Buell 1125R through the 11.50 class. Hailing from the Universal Fleet & Tire Racing team, he proudly bears the emblem of Universal Fleet & Tire Service Inc., his steadfast sponsor. 
The title "Index Pro" adorns Ray's racing legacy, a testament to his mastery of precision and consistency. With five years of racing history etched into his journey, Ray has morphed from a newcomer to a seasoned contender, leaving his mark on every stretch of the track.
Ray's journey into the world of riding was driven by a singular passion: to chase his dreams and embrace the intoxicating rush of velocity. Guided by the instinct to go fast, he catapulted himself onto the riding scene, determined to carve his own path of glory.
At the core of his journey lies his mentor, Hooper David Richardson, whose wisdom and guidance have molded Ray's riding prowess. Hooper's influence reverberates through Ray's every move, making him a force to be reckoned with on the race track.
Beyond the confines of the track, Ray's life is a tapestry woven with diverse threads. From fishing and hunting to the thrill of motorcycle travel, Ray's pursuits mirror his racing spirit—adventurous and fearless. These passions reveal the multifaceted personality of a racer who finds solace in the harmony of speed and nature.
As Ray takes center stage in the racing world, he extends his gratitude to Universal Fleet & Tire Service Inc. for their unwavering support. His riding dreams are bolstered by the collective strength of his race teammates and the unwavering camaraderie they share. Ray Robinson's journey is a testament to the power of dreams, determination, and a passion for speed. With each twist of the throttle, he sets an example that defies limits and leaves a trail of awe in his wake.