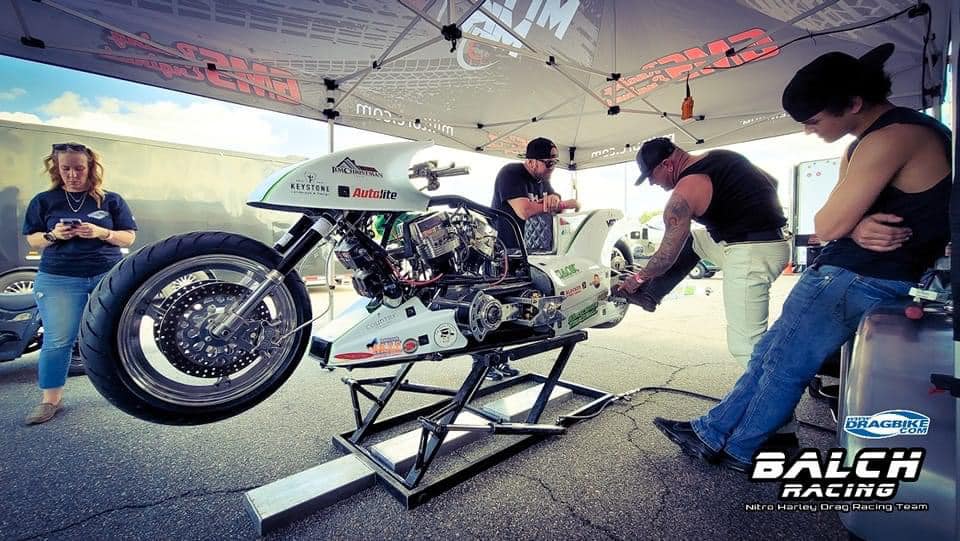 Get ready to witness the thunderous power and unwavering determination of Michael Balch as he ignites the drag strip on his 150 cubic inch Nitro Funny Bike. Hailing from Palmerton, Pennsylvania, Michael is a force to be reckoned with, leaving a trail of awe and excitement in his wake.
Michael's trusty steed is a Nitro Funny Bike, originally built by the skilled hands of Bill and Armon Furr at Orangeburg Cycle. This beastly machine epitomizes Michael's love for speed and adrenaline, propelling him to new heights in the adrenaline-fueled world of drag racing.
As a proud member of Balch Racing, Michael stands as a testament to the unyielding spirit of his team. Supported by an impressive array of sponsors including Millennium Industrial Services, GMS Racing Engines, Blocker Enterprise, AOK Heating, Air Conditioning and Electrical, Creek Siding and Roofing, Turner Chevrolet, The Jim Christman Team, Go Getters Handyman Services, Autolite, Renegade Race Fuel, The Candle Shoppe of the Poconos, ZLC Payroll Services, Harley Haul, Black Flys Eyewear, Pinnacle Grooming, John Herman Insurance Services, Rob the Painter, Keystone Landscape and Design, Altemose and Son Landscaping, and Country Inn and Suites by Radisson Lehighton, Michael's journey is fortified by their unwavering support and belief in his capabilities.
Michael's illustrious racing career boasts an impressive two-time All-Harley Drag Racing Association national championship title. From his humble beginnings racing a stock wheelbase Sportster in 2014 to progressing straight to Nitro Harley in 2018 and earning his NHRA license, Michael's journey has been a testament to his relentless pursuit of excellence. In 2021, he stepped into the competitive arena, seizing the opportunity given by John Red Rhea to ride his Funny Bike.
Mentored by esteemed icons such as Larry McBride, Dean Comunal, Bob Spina, John Red Rhea, Gregg Dahl, Steve Rominski, Jason Pridemore, Rickey Gadson, and Tii Tharpe, Michael draws inspiration from the best in the industry. Their guidance and expertise have propelled him to push his limits and constantly strive for greatness.
Beyond the drag strip, Michael is deeply passionate about making a positive impact in the lives of young individuals facing behavioral issues and coming from low-income families. Drawing from his own experiences, he dedicates his time to mentor and support these misunderstood youth, believing that a little guidance can make a world of difference. Additionally, Michael organizes a free Thanksgiving dinner for his hometown each year, showcasing his commitment to giving back to the community.
Michael wants the All-Harley Drag Racing Association audience to know that motorcycle drag racing is an awe-inspiring sport that holds a special place in the hearts of its participants. He believes in the importance of involving younger generations in the sport to ensure its future and spreading awareness to those who are unfamiliar with the thrilling world of drag racing. Together, let's embrace the "now" and fuel the passion that drives this incredible sport.